Do you have issues with the maintenance of your commercial or municipal properties? If you're looking for a complete solution to keep your property at its best, we can help. From landscaping and lawn care to building repairs and snow removal, our team can provide 24/7 care to ensure that your grounds and building exteriors are safe and make the right impression.
Our Property Maintenance Services
CSL Group provides comprehensive property maintenance services for businesses and organizations across Ontario. We take care of any problems on your property, including building and fencing repairs, graffiti removal, window cleaning, lighting maintenance, and more.
Everything from your building to the edge of your property is part of our roster of services. Find out what sets us apart in the industry:

24/7 Monitoring & Response
Our team has the crews, the equipment, and the infrastructure necessary to deliver comprehensive service for multi-site properties across Ontario.

Province-Wide Service
We are your snow insurance policy. When we provide snow removal services, we offer $10M in CGL coverage and $10M in Aviation Liability coverage. We have never lost a lawsuit related to snow removal and we're here to take liability off your plate.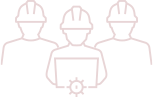 Communication & Quality
Our project managers will communicate proactively about potential issues on your property, and keep you in the loop. We follow through on expectations to keep your property beautiful.

Trusted Subcontractors
We have established relationships with reliable subcontractors and specialized tradespeople for any situation. If a specialized trade is required, we can get the job done right.
Get Your Free Commercial Outdoor Maintenance Guide
Our Services for Property Maintenance Include:
Request a Quote
Call our team at (905) 648-7949 or complete the form below to request your quote today.