Do you need reliable property maintenance for your commercial or municipal property in Hamilton?
A beautiful commercial property will attract customers to your business and help tenants take pride in where they live and work. The condition of your commercial property's exterior is how your business presents itself and represents your brand. You want to ensure that your property is safe and beautiful all year round.
The City of Hamilton is a growing urban centre in the province and home to many hospitals, specialized healthcare facilities, and educational institutions. For your property to stand out in this region, it is important to ensure that it is well-maintained and accessible at all points of the year.
Industry-Leading Property Maintenance Company in Hamilton
Since 1982, CSL Group has been providing comprehensive property maintenance and construction solutions for properties in Hamilton. We are industry-leading experts in the care of municipal and commercial properties and are responsible for many high-profile clients across Ontario.
From landscape construction and management to property services, enhancements, and more, our team of over 200 trained specialists will ensure your property stays safe and beautiful throughout the year. Our team is committed to creating a landscape that will represent your organization at its best.

24/7 Province-Wide Service
Our team has the crews, the equipment, and the infrastructure necessary to deliver comprehensive service for multi-site properties in the Hamilton region.

Project Management
Our project managers communicate proactively about potential issues on your property, and will keep you in the loop. We follow through on expectations to keep your property safe and beautiful.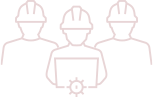 Reliable Performance
Our team is trusted by major commercial, municipal, and institutional clients across Ontario. From well-trained crews to fully-insured service, you can rely on our team.
Our Location in Hamilton Region
1326 Butter Road West
Ancaster, ON
L9G 3L1
Hours of Operation
Weekdays: 8am – 5pm
Weekends: Closed
Phone: 905-648-7949
Fax: 905-648-8886
Toll-Free Phone: 1-888-996-9994
Our Comprehensive Services
Our comprehensive property maintenance and construction solutions will keep your property safe and beautiful year-round. From landscaping and lawn care to parking lot upkeep and snow removal, we are here to help.
Construction Services
We have the expertise to complete construction projects of all sizes and will deliver results on spec, on time, and on budget. Our company has in-depth experience working on major municipal and commercial projects with architects, engineers, and designers in Hamilton.
Snow Removal Services
Our team offers industry-leading snow removal services for commercial, municipal, and institutional clients across Ontario. We will take on the liability and risk management to provide you with total peace of mind. From top certifications and equipment to 24/7 emergency response, we have what it takes to handle snow removal on any type of property.
Landscaping Services
We have the expertise to deliver efficient, reliable, and top quality landscaping services in Hamilton. We understand that taking care of commercial properties means providing an array of services, based on specific locations. Our qualified crews have the professional equipment and the experience to respond to any issues and proactively address challenges.
Property Maintenance Services
CSL Group offers comprehensive care and maintenance services for commercial and municipal properties in Hamilton. From property repairs and graffiti removal to litter clean-up and other outdoor services, we will take care of any issues that arise on your property.
Our team delivers 24/7 monitoring and responsive service to sites across Ontario. Our property services are backed by experienced crews, the latest equipment, and trusted subcontractors. Find out what sets us apart in the industry.
Parking Lot Services
Our team can handle any scope of parking lot projects, from full resurfacing to minor repairs and maintenance. We use our own fully-insured crews and equipment to provide complete accountability. Whether concrete or asphalt, we will ensure that the paved surfaces on your commercial property remain in good condition year-round.
Request a Quote
Call our team at 1-888-996-9994 or complete the form below to request your quote today.