When the bad weather arrives, it is essential to provide safe and accessible property conditions for your visitors. Uncleared snow and ice create a significant hazard to both vehicles and pedestrians, and can present a range of liability concerns for your organization.
Let us take on those challenges for you with comprehensive snow removal and ice management services.
CSL Group mitigates your winter liability risk so you can have total peace of mind.
Our Commercial Snow Removal Services
CSL Group provides industry-leading snow removal and ice management services for businesses and organizations across Ontario.
When you work with our team, you can rest assured that your parking lots, sidewalks, and walkways will be quickly cleared and de-iced for as long as winter lasts. Our best-in-class system includes exceptional record keeping, 24/7 monitoring, risk management, and complete clarity on what to expect from our services.

24/7 Emergency Response
Our team is quick to respond to any change in weather conditions and we'll be at your property before you know it. If you have any snow or ice-related issues, our offices are available 24/7 to respond to a weather-related emergency. Give us a call at 888-996-9994.

Risk Mitigation & Coverage
We mitigate your winter liability risk. When we provide snow removal services, we offer $10M in CGL coverage and $10M in Aviation Liability coverage. We have never lost a lawsuit related to snow removal and we're here to take liability off your plate.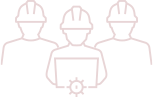 Trusted Performance
Our team is trusted by major commercial, municipal, and institutional clients across Ontario. This includes facilities at Hamilton International Airport and major trauma hospitals, such as the Juravinski Centre in Hamilton and Joseph Brant Hospital in Burlington.

Certifications & Equipment
Our team members are Smart About Salt certified and include Advanced Snow Managers (ASM). Our fleet of vehicles is fully GPS-tracked for total accountability and our in-house shop means that quick and regular maintenance is part of our routine.
Get Your Free Commercial Outdoor Maintenance Guide
Our Snow Removal Fleet
At CSL Group, we have the fleet and the equipment to handle snow removal operations of any scale. Our full fleet of trucks, loaders, plows, tractors, and snow blowers is outfitted with the latest technology to ensure we can handle whatever winter throws at us.
Our extensive fleet of vehicles includes:
Backhoes
Bin Trucks
Front-End Loaders
Pickup Trucks
Skid Steer Blowers
Truck-Mounted Snow Blowers
Tractors
And more
Exclusive-use snow removal equipment is available upon request. Contact us to learn more about our snow removal capabilities for your property.
Our Services for Snow Removal Include:
Request a Quote
Call our team at (905) 648-7949 or complete the form below to request your quote today.